Dow on pace to end year back over 18,000 as stocks rise.
European markets rise in thin trading, but London and Paris are still below their year ago levels – unlike Frankfurt, which has managed to end the year in the black. Wednesday, 14:30 GMT: The S&P 500 is heading back towards its record high at the start of the last session of what has been a stellar year for US equities, after European indices headed up off their October lows and cut their overall losses for 2014.Stocks turned lower on the final trading day of the year, capping an otherwise strong year for stocks that puts the Dow on course to post its sixth consecutive year of gains. The Wall Street benchmark is up 0.1 per cent at 2,082.20 turning around from its 0.4 per cent fall on Tuesday and putting it back within touching distance of its best-ever closing reading of 2,090.57 reached on Monday. The strong rally this year has been powered by an improving U.S. economy and an unexpected drop in interest rates that have overshadowed fresh threats ranging from a less-easy Federal Reserve, geopolitical turmoil around the globe, swooning oil prices and key economies under stress in places like Europe, Japan and China.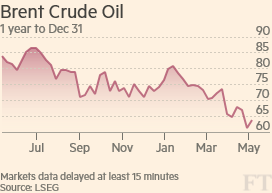 The blue-chip Dow Jones industrial average, which powered through both 17,000 and 18,000 this year, is up 8.5%, with the small-cap Russell 2000 trailing all the other major indexes with a gain of 4.2%. The extended period of cheap money, coinciding with a strong economic rebound and contained inflation, has sparked a bull-run in equities at the same time as a sustained dollar rally over 2014.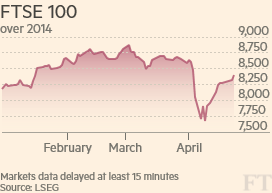 It's often said that the stock market performs best when it is climbing a so-called "wall of worry." And the market in 2014 had its fair share of things to worry about. Stocks have been able to overcome a series of obstacles, including the end of the Fed's market-friendly bond-buying program, a 50% plunge in oil prices, a return of Cold War rhetoric involving Russia, the Ebola virus scare, and a bad-weather inspired early-year economic malaise in the U.S. dubbed "freeze-onomics." But rather than focus on the negatives, investors instead zeroed in on the suddenly vibrant U.S. economy, which picked up steam as the year progressed, clocking in at a 5% growth rate in the third quarter and churning out an impressive 321,000 jobs in November. The rise trims the main UK index's loss for the year to 1.5 per cent, but also lifts it 5.8 per cent off its closing low for the year reached in October. China's Shanghai Composite jumped 2.2% to 3,234.68 on Wednesday after a weak manufacturing report reinforced hopes for new stimulus as growth in the world's No. 2 economy slows.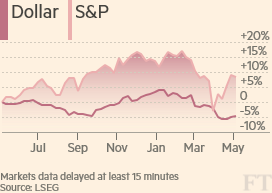 Despite that, the mainland Chinese equities benchmark remains at about half the level it reached before the financial crisis and remains beneath its 2009 post-crisis high. Brent crude, the international oil benchmark, is 2.4 per cent weaker at $56.49 a barrel, with pressure coming from further signs of a slowdown in China's manufacturing sector. Markers of volatility fell to multiyear lows over the summer, while trading volumes slumped. "The market just seems to keep rallying," said Scott Armiger, chief investment officer at Christiana Trust, which oversees about $9 billion out of Wilmington, Del. "It's been an amazing year." Below the surface, some signs of turbulence emerged. The December HSBC/Markit purchasing managers' report showed its first contraction in seven months, adding to concern about the outlook for oil demand.

Many investors were caught flat-footed by the steady decline in bond yields, which led to a surprise surge in income-oriented investments like utility stocks. It would still take a brave man to try and catch this particular falling knife though, given how sanguine Saudi Arabia appears to be about recent drops in the oil price, which would seem to suggest we could see further losses towards the lows seen a few years ago near $40 a barrel." The dollar DXY, +0.15% was little changed, keeping its yearly advance of more than 12% and on track for its best year since 2005, according to FactSet data.

While the U.S. economy is growing at an expanding clip, Europe's is showing signs of trouble and China's long-booming economy has been cooling. "The U.S. is outperforming the rest of the world," said Bill Nichols, head of U.S. equities at Cantor Fitzgerald. "But have stocks run too far too fast? Even with good fundamentals and better economic data and stronger earnings…is it time for a pause?" While the Federal Reserve is expected to raise interest rates next year, Ed Hyland, a global investment specialist for J.P.
Morgan Private Bank, said a slow-and-steady approach to raising rates shouldn't diminish the appeal for U.S. stocks. "It's fundamentally good because it means that the Fed is removing this extraordinary easing and they're only doing that because they feel that the economy is able to generate self-sustaining growth," he said. "That will be good for corporate earnings," he added. The final reading of the HSBC Manufacturing Purchasing Managers' Index fell to a final reading of 49.6 in December from 50 in November, indicating a contraction in activity. Shares of American Eagle Energy Corp. plunged 19% after announcing Wednesday that it suspended drilling operations and likely won't resume until oil prices improve.